Welcome To
Go Green Go Organic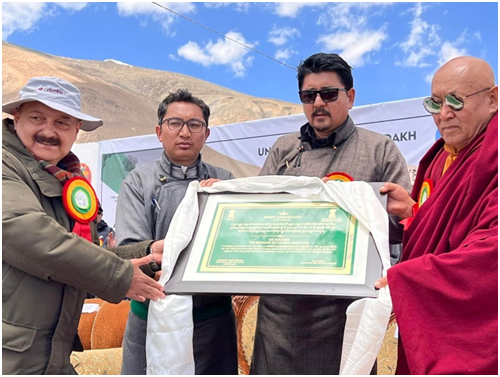 His Holiness Drikung Kyabgon Thinley Lhundup
Chairman (Go Green Go Organic)
Green Ambassador (Ladakh UT)
Mountain Partnership Ambassador of the United Nation (UN)
Mission Go Green Go Organic is the brain child of His Holiness Skyabgon Chetsang Rinpoche, 37th Throne Holder and Lineage Head of the Drikung Kagyu Lineage of Buddhism and the Highest Lama incarnate after His Holiness the Dalai Lama. In his efforts to make 'Dharma' accessible to all, he has in a short journey of nine years nurtured and trained many Lamas from childhood and established Buddhist Centres of learning in many countries across the Globe.
At heart His Holiness is an inveterate promoter of techniques and systems for a healthy Environment. Since 2014 his assiduous efforts to reverse the trend of moving away from traditional practices, whether they are in the field of Agriculture, Horticulture or even livestock have yielded excellent results and today as the report below shows a couple of villages are following completely Organic/traditional methods of cultivation whereas many other have also pledged to follow the path of sustainability. The Organic Cultivation practices which the farmers have adopted and remodeled their agriculture practices on the wisdom of ancient traditional practices, will ensure people are saved from the ill-effects of using chemical fertilsers and pesticides. Large tracts of waste-land have come under the cover of forest and fruit trees.
Sea buckthorn a local indigenous shrub, the berries of which are not only nutrient laden fruit for the populace and source of sustenance for the bird life in the long periods of snow covered winter months but also a great protection for the soil. The laterally spreading root system holds the soil firmly in place.
His Holiness's efforts are not limited to Agriculture, his all embracing compassion has expanded to envelope in its bountiful embrace flora and fauna as well. His Holiness actively promotes the "concept of life release" or "Animal liberation" practiced in Buddhism by saving cows destined for slaughter. Nothing escapes his vigilant eye as he travels covering hundreds of kilometres in a single day in Ladakh. Depending on the needs and climatic conditions of the region, at some places he gifts strong breeds of horses, Hybrid variants of Yak and local breed of cows to encourage people to stay in their traditional occupations, while at the same time generating jobs and ensuring wholesome food for the people of the region. At others, he provides seeds to experiment with new varieties of crops (potatoes). He works tirelessly through the day and sometimes late into the night.
His Holiness's efforts and their amazing success as witnessed in the region of Ladakh are a clear indicator of what a truly Holy person can achieve. His activities are not confined to Ladakh, his work has expanded to include Sikkim and Bhutan. In his own way he is also actively helping the United Nations to achieve their Sustainable Development Goals.